Pixel Adventure 2
Pixel Adventure 2
This project contains all the 20 enemy characters that are presented in the Demo version above. Every enemy has a different mechanic to help you create fun and interesting levels.
Play the Demo to see all the enemies in action.
Use the arrows on your keyboard to move left, right and jump.

On the top-right corner are buttons to move you through the different scenes.
Combine and modify all these elements, and enjoy creating your own adventure.
Note:
-This project contains (20 enemies) graphics images only, in PNG format.
-All animations have a speed of 20 FPS or 50 MS.
License:
This asset pack can be used in free and commercial projects. You can modify the assets as you need. Credit is not necessary, but always appreciated. You may not repackage, redistribute or resell the assets, no matter how much they are modified.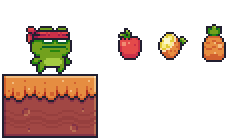 Download the rest of the assets in Pixel Adventure 1